without words. She keeps us on our toes by getting into everything and just generally attempting to assert her independence. She tries hard to keep up with her big brother while constantly proving to us just how different she is from how he was at this age.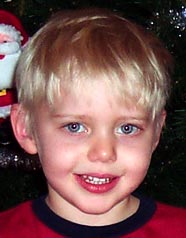 A sweet smile from Matthew.
Matthew will be 5 in January and started pre-kindergarten this fall. He goes Monday through Friday afternoons. He has a lot of fun and is learning so much. They even get visits from live animals in their classroom, like guinea pigs, turtles, and snakes! Matthew continues to be very... uhm, active and... uhm, talkative. :-) His favorite things to do at home are to play x-box games and play with Kaylee... whether she wants him to or not.
While we still haven't found jobs, Mark has had several interviews recently, and we remain hopeful that something will work out soon. We feel very fortunate to have made it through the past two years as well as we have. Mark's internet business, Thats-Impossible.com (selling magic, Harry Potter stuff, electric trains), is still going, but has been a bit slow lately. He's also considering working his magic act back up again.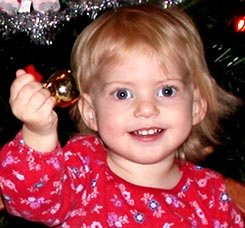 Jingle-bell Kaylee is ready
to ring in the new year.
Kim is working on starting an internet business of her own. She will be doing photo layouts for the web or print, along the lines of the ones she has been doing of the kids for the past couple of years. After so many people telling her she needed to do that professionally, she finally gave in. She's working hard to try to get everything ready to go, and hopes to have the initial site ready very soon. Look for Windows in Time to make its debut sometime in January (hopefully). After swearing when she finished her bachelor's degree that she would never go to school again, Kim is also considering going back to study graphic design and/or web design/development and has begun checking into programs in our area.
We made two major road trips this year to visit friends and family in the Midwest. The first was in March for Mark's sister's wedding. Kim and the kids stayed a while longer at Kim's folks', so she could go into Chicago to spend a weekend with a group of friends who came in from all over the country. The second trip was over Thanksgiving, and it seems like we just got back. It was great to see everyone, but we are ready to stay home for a while now. :-)
Have a wonderful Holiday Season and a happy and healthy New Year!